If you have been putting off the idea of getting a velvet sofa because you are unsure of how to maintain it, don't worry, we got you! Here is a short list of simple tips to help you with the maintenance of a velvet sofa.
What is a Velvet Sofa?
As the name suggests, velvet sofas are upholstered in velvet. They are one of the most luxurious and premium looking sofas due to the gorgeous sheen and texture. With a soft and smooth texture, they not only look amazing in any interior setting, but feel wonderful too. However, they can attract dust, giving many people the idea that it is a lot of trouble to maintain them. Contrary to popular belief, they are actually not difficult to clean, and can be properly maintained with the following tips.
Regular Cleaning
Carefully brush off dust particles and use a vacuum cleaner to vacuum the velvet surfaces on a weekly basis. This may sound like a very simple task, but you might want to carry them out regularly to extend the life span of your velvet sofa.
Steaming
Wrinkles are bound to appear after sitting on velvet sofas after time but fret not! A clothes steamer will do the trick! Steam the area with wrinkles on low heat and hold the steamer a distance away from the velvet surface. This helps in removing any wrinkles and fuzz. You should also lightly brush gently against the surfaces for faster results.
Hot tip: Don't worry if you don't own a clothes steamer! Alternatively, a steam iron works just as well! (Hold the iron 6 inches or more away from the velvet surface and make sure that there is no contact at all)
Spot Cleaning
Spilt something on your velvet sofa? Don't panic! Simply place a cloth or paper towel on the affected areas, allow it to absorb the spills and leave the surface to air-dry after. You should avoid dabbing or rubbing the area as the liquid will be soaked into the velvet surface instead. Alternatively, you can consider getting a stain-resistant velvet sofa to save you such trouble!
Avoid Sunlight
Fading of your velvet sofa may occur faster if placed under sunlight for a period of time. However, this problem can be easily avoided as long as the sofa is placed at an area away from sunlight.
Conclusion
And there you have it, 4 simple tips to upkeep and maintain your beautiful velvet sofas. So, be sure to apply them regularly to keep your velvet sofas in their best condition for as long as possible.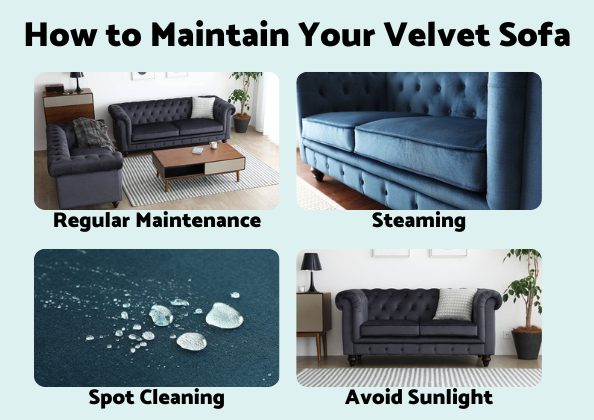 Shop our range of velvet sofas at BEDANDBASICS today!